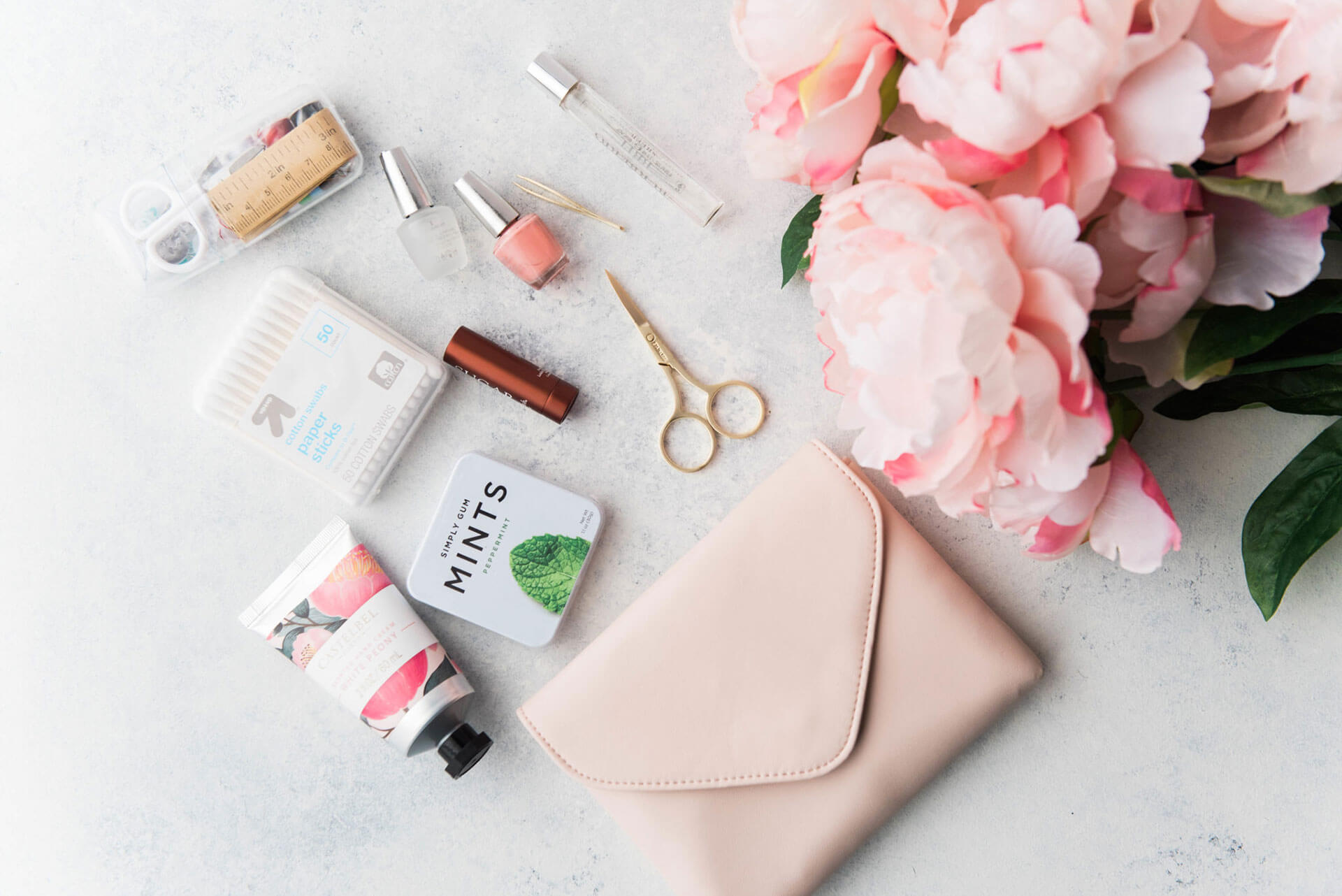 Wedding season is coming up and the last thing any of us want is a disaster or hiccup we aren't prepared for. It's your big day and when all eyes are going to be on you, we want to make sure that you stay looking flawless.
Regardless of how detailed your on-the-day itinerary is and how much you plan, there are always bound to be a few wedding hiccups on the day. That is where this bridal survival kit comes in, helping you stay ahead!
Every bride is different, and only you will know what is right for you.  It is a good idea to speak to family and friends who are married, ask what slipped their mind and what they think you need.
Now you won't need to bring your whole makeup kit, but life essentials (and non-essentials) that can range from hair-pins to straws. We have created a list of all the possible things you may need on the day! It is usually your maid-of-honour or your sister's duty to create and look after the emergency kit for you, but make sure you take note of things you will definitely need so she can compile it.
FOOD & DRINK
It is no surprise that the Bride and Groom, after all those tastings, don't always tend to get to enjoy the meal when it is served. Although I'm sure your family, the catering team or wedding planner will be looking after you with food and drink throughout the day, it is a good idea to keep a few certain items with you. For example, when your hair and makeup is being done, you may just crave a chocolate bar.
Cereal Bar / Health Bar
Bottle of Water
An Energy Drink
Chocolate / Sweets
A Packet of Crisps
Nuts
Chewing Gum / Breath Mints
Drinking Straws (to make sure you don't ruin your lipstick)
Tea Sachets
BEAUTY
Your hair and makeup artist would have left, and it will be up to you and your bridesmaids to make sure you can touch up your makeup as required throughout the night. It is always a good idea to speak to your makeup artist for their suggestions on what few items you need on the day, as it is all dependent on the look you go for.
Lipstick – as close to the shade you have on
Concealer
Eyelash Glue
Nail File
Coloured Nail Polish – as close to the colour of your nails
Clear Nail Polish
Nail Polish Remover
Cotton Buds
Tweezers
Earring Backs
Clear Deodorant
Perfume
Lint Roller
Hair Brush or Comb
Compact Mirror
Hair Pins
Hair Spray
Oil Blotting Sheets
Body Lotion
Makeup Wipes
HEALTH & WELLBEING
You go through a lot of emotions throughout the day and due to some natural anxiety that is bound to occur on the day. For example, you may not eat properly or the lack of sleep may get to you.
Mini First Aid Kit: Plasters, Burn Relief, Bandages – better to be safe than sorry.
Paracetamol
Indigestion Tablets
Pain Killers
Toothbrush and Toothpaste
Eye Drops
Allergy medication (please make sure this is non-drowsy)
Vitamin Tablets
Tampon / Sanitary Towel
Tissue Packets – A Saheli Must!
Hand Sanitiser
Mouthwash
Gel Pads for Feet
Sunscreen
An Energy Drink

BECAUSE YOU NEVER KNOW…
Accidents happen, and these things are really because you never know.
Safety Pins
Chalk
Stain Remover
Disposable Razor
Extra Undergarments
Super Glue / Nail Glue – just in case your heel breaks or becomes loose
Pen & Paper
Lighter
Duct Tape – White preferably
Phone Charger
Hand Towel
Sewing Kit
I know it seems like a lot, but a lot of these items will be in your home and you can pick up some mini sized items. Remember, you don't need every single item we have listed, just the ones you think will give you that extra peace of mind. Make sure the kit is in a safe but easy-to-access place throughout the day. As your maid-of-honour or sister will be taking care of the Emergency Kit details, just give them a little heads up when you need something.
While we hope there are no emergencies on the day, in case of any spillages, beauty breakdowns or just any old accident – you are definitely going to be prepared.
Lots of love, Saheli x